Nine of Dalhousie's world-class researchers have been recognized by the Royal Society of Canada (RSC) for their outstanding scholarly, scientific and artistic achievement.
With six new RSC Fellows and three new Members of the College of New Scholars, Artists and Scientists, it is the largest cohort from Dal to ever be inducted into the RSC.

The new fellows include: Dr. Janice Graham, Faculty of Medicine; Dr. Sara Iverson, Faculty of Science; Dr. Marlon Lewis, Faculty of Science; Dr. Ian Meinertzhagen, Faculty of Science; Dr. Sherry Stewart, Faculty of Medicine; and Dr. Michael Ungar, Faculty of Health.

The three new college members are: Dr. Anna MacLeod, Faculty of Medicine; Dr. Sean Myles, Faculty of Agriculture; and Dr. Natalie Rosen, Faculty of Science.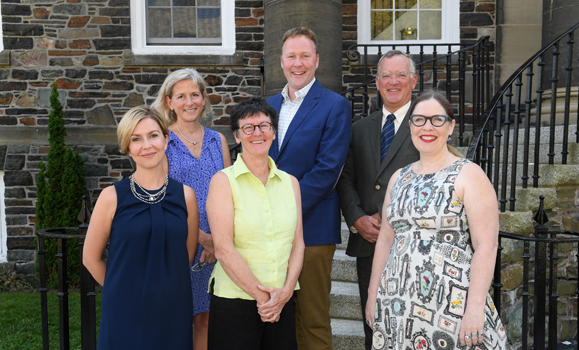 RSC honourees at a September luncheon. Back row (left to right): Sara Iverson, Sean Myles, Marlon Lewis. Front row: Anna MacLeod, Janice Graham, Sherry Stewart. Not pictured: Michael Ungar, Natalie Rosen and Ian Meinertzhagen. (Danny Abriel photo)

According to the Royal Society of Canada, the Fellows comprise over 2,000 Canadian scholars, artists, and scientists, peer-elected as the best in their field, who are making remarkable contributions in the arts, the humanities and the sciences, as well as in Canadian public life. Those named to the College represent the emerging generation of scholarly, scientific and artistic leadership in Canada. They address issues of concern to new scholars, artists and scientists, for the advancement of understanding and the benefit of society.

"We are extremely pleased to see so many of our faculty honoured by the Royal Society of Canada," says Dr. Alice Aiken, vice-president research and innovation at Dalhousie. "To be recognized in this way is evidence of the impact each of them is making to their field. We are thrilled that they contribute to our Dalhousie community every day."

Learn more about Dalhousie University's newest Royal Society fellows and College members:
Dr. Janice Graham, Faculty of Medicine (Fellow)

Janice Graham is an internationally recognized medical anthropologist who has carved new paths into the deep ethnography of science, health technologies and medicine. Interested in the cultural, technical and moral tensions of health regulation, she studies the evidence for safety and effectiveness of emerging biotechnologies, and the commercialization of publicly funded health innovation. She is currently working on transparency, openness and trust in global vaccines research.

"It is humbling to have been elected as a Fellow in the Royal Society of Canada… I cried," says Dr. Graham. "Both my parents left school at 14. They came to Canada on an immigrant farm labour program in the early '50s and I was the first in my family to make it to university. To have my work honoured in this way? I pinched myself."

Dr. Sara Iverson, Faculty of Science (Fellow)

Sara Iverson's interdisciplinary and ground-breaking research has advanced the understanding of marine animal physiological ecology; roles of fat in mammalian reproduction, survival and life history strategies; and marine animal movement and foraging ecology. She is the scientific director of the global Ocean Tracking Network, the world's foremost aquatic animal tracking network and a Canadian National Research Facility, which is revolutionizing the way aquatic life is studied, understood and governed under increasing environmental change.

"I am extremely honoured to be inducted into the Royal Society of Canada – I have been dedicated and passionate about the work I have done throughout my career and it is really exciting for it to be recognized this way," says Dr. Iverson.

Dr. Marlon Lewis, Faculty of Science (Fellow)

By combining insightful theory with ground-breaking measurements of light in the oceans, Marlon Lewis has pioneered our ability to remotely observe, describe and understand pelagic ecosystems. Additionally, his leadership of the development of satellite oceanography and its commercialization has substantially furthered ocean observation technology. Dr. Lewis is the very model of an influential innovator and a preeminent interdisciplinary oceanographer.

"It is a true honour to be recognized by the Royal Society of Canada," says Dr. Lewis. "It reflects on what has been a real adventure of discovery in oceanography and as well on the excellent work of my colleagues and in particular, 'my' students."

Dr. Ian Meinertzhagen, Faculty of Science (Fellow)

Ian Meinertzhagen is a pioneer in connectomics, the comprehensive mapping of brain networks. Internationally acclaimed for research on simple nervous systems his work reveals circuit models for all brains. In Drosophila he has identified neurons for motion vision. Dr. Meinertzhagen's studies of photoreceptor axon growth were critical for the then nascent field of developmental neuroscience. He showed that circuits are influenced by experience, refuting a prevailing orthodoxy that insect brains are hard-wired.

"The election is of course a great honour," says Dr. Meinertzhagen. "Just as much as for myself, the award also acknowledges the important contributions made by members of my lab here at Dalhousie, and in many cases made possible through collaborations with a large number of colleagues around the world."

Dr. Sherry Stewart, Faculty of Medicine (Fellow)

Sherry Stewart has made significant, internationally-reputed contributions to the understanding of, and intervention with, anxiety and addictions. She has relentlessly pursued identifying the basic personality, motivational, and situational factors underlying the proclivity to develop excessive anxiety and/or addictive behaviors (e.g., misuse of cigarettes, alcohol, cannabis, prescription drugs, and gambling) using sophisticated social science lab, field, and intervention approaches. She has studied adults and adolescents in mainstream and Aboriginal communities.

"Twenty-five years ago as a new faculty member I had the opportunity to deliver a lecture on addiction at a Royal Society meeting where I first learned about the Society's mission," says Dr. Stewart. "I am honoured to be inducted into the Royal Society and I hope to contribute to their important mandate as a Fellow."

Dr. Michael Ungar, Faculty of Health (Fellow)

Michael Ungar's research on human resilience has been internationally recognized for broadening our understanding of how culture influences the relationship between social environments and the protective processes associated with positive child and adult development. The multi-country studies of resilience among stressed populations that he has led have been the basis for a global program of knowledge translation that is helping to inform both social policies and clinical interventions.

"To be invited to join a national group of leading scientific peers is a great opportunity to build networks, as well as broaden my own understanding of the many intersections between my research and theirs. It is what transdisciplinary science is meant to be," says Dr. Ungar.

Dr. Anna MacLeod, Faculty of Medicine (Member of the College of New Scholars, Artists and Scientists)

Known for her innovative approaches to exploring medical education, Anna MacLeod is at the forefront of her field. Her insights are sought by colleagues nationally and internationally, demonstrated by her visiting scholar appointments and speaking engagements. Dr. MacLeod's award-winning contributions have elevated the discourse of medical education, incorporating critical social science perspectives and broadening theory, while making a significant practical contribution to the design and delivery of medical education locally, nationally and around the world.

"As a social scientist based in the Faculty of Medicine, I've had the pleasure of working with thoughtful and encouraging colleagues who've helped me to leverage my unique viewpoint to make a strong contribution in my field," says Dr. MacLeod. "Being inducted to the RSC's College of New Scholars is such an honour because it demonstrates that unique perspectives, like mine, are valued in medical education here at Dalhousie, and in Canada more broadly."

Dr. Sean Myles, Faculty of Agriculture (Member of the College of New Scholars, Artists and Scientists)

Sean Myles develops and uses modern genomics tools to explore the history and improve the future of agricultural species. His research has provided insights into the histories of grapes, apples and cannabis and he is at the forefront of research aimed to accelerate the breeding of these crops using genomics.

"Being elected to the college is not just an honour, but most importantly, it's a great opportunity to learn how to translate my work into impacts for the betterment of Canada and the world," says Dr. Myles. "I'm excited about this! Membership in the college puts me in touch with a diverse collection of Canada's leading intellectuals, which is an ideal recipe for making great things happen."

Dr. Natalie Rosen, Faculty of Science (Member of the College of New Scholars, Artists and Scientists)

Natalie Rosen, an associate professor of Psychology & Neuroscience, is internationally recognized for her contributions to the fields of pain and sexual dysfunction by approaching them from a dyadic perspective, and translating her findings into evidence-based interventions to improve couples' health and well-being. Through enhanced knowledge of the interpersonal dynamics that maintain these problems, her work represents a paradigm shift in the way these disorders are conceptualized, studied, and treated.

"It is an honour to be elected to the College alongside such outstanding scholars from across the country," says Dr. Rosen. "To me, membership in the College offers me a unique and invaluable opportunity to create interdisciplinary exchanges with those who have similar yet diverse research interests."

This year's new Fellows and College members will be formally inducted into the RSC in November during the annual Celebration of Excellence and engagement, which will be hosted by Dalhousie University.

Visit the แจกเครดิตให้คนเล่นสล็อตออนไลน์Royal Society of Canada for more information.